[layerslider id="1″]
Winged Messengers  
Sold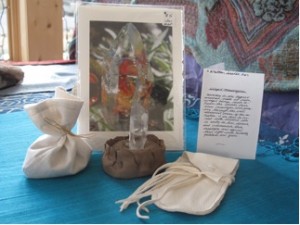 "Hovering in the layered mountain mists at dawn winged beings move between the worlds, their clear messages ever piercing through the veil. Mercurial voices of the ancestors. I am ready to connect to someone who is ready to hear, discern and communicate their messages and spread their light with humility, gratitude and grace".
*These crystal packages always seem to find their right homes. So if your intuition is telling you that this is for you or a friend than it probably is!
Price:  $85 + shipping  
Crystal packages include a quartz point in handmade deerskin pouch. Card with photograph of the specific crystal, and transcribed message  inside.
To purchase please contact me here